24 September 2019
As people are becoming increasingly aware of the impact of lifestyle and environmental factors on their wellbeing, wellness real estate is emerging as a solution to support individuals and communities to live healthier lives. In order to achieve such an outcome, wellness real estate follows a development process that presents certain key particularities as compared to traditional real estate.
Wellness real estate consists of various components, of which the primary ones are wellness lifestyle estate and wellness communities. Overall, the industry is a USD 134.3 billion market as of 2017, led by North America (USD 54.8 billion) and the Asia Pacific (USD 46.8 billion). The United States represents the largest wellness real estate market globally and is valued at USD 52.5 billion, more than twice the value of the second biggest market, China (USD 19.9 billion).
In addition to the health and lifestyle benefits brought to the end-users, wellness real estate also benefits buyers, developers and operators. From a buyer's point of view, wellness lifestyle real estate typically achieves faster value appreciation than traditional real estate and thus is considered as a more attractive investment. Developers, on the other hand, benefit from higher returns as a result of the price premiums achieved from the sale of wellness lifestyle real estate units. Finally, in the case of wellness lifestyle real estate developed around a wellness resort, the resort operator benefits from increased demand and revenue generated from branded real estate residents, real estate branding fee revenue, and from an opportunity to increase the resort inventory through a sale and leaseback model.
Although wellness lifestyle real estate is essentially developed according to processes and key phrases that are similar to traditional residential real estate, certain key distinctions exist, especially in relation to concept development, master planning and design. The phases of the wellness lifestyle real estate development process are as follows:
Site Analysis
The determinants that make a site fit for wellness real estate developments include the location, topography and scenery. Access to the site to and from nearby hubs should be convenient, surrounding noise pollution should be minimized, views and landscapes are desired, and the topography should provide opportunities to develop a master plan that emphasizes walkable neighbourhoods.
Market Research and Feasibility
In addition to evaluating the market conditions, outlook and trends of the global and local wellness real estate market, a thorough analysis of competitive real estate developments is required, looking at factors such as unit mix and sizing, absorption rates and rental programs, among others.
Wellness Concept Development Strategy
Based on the selection of the site and the outcome of the market research and competitive analysis, a differentiated development strategy is established, along with key criteria that drive the sales, marketing and business models of the development, such as the wellness-specific positioning and target market.
Design and Development Brief
The purpose of this document is to provide the master planners, architects and designers with the guidelines needed for a detailed master plan to be aligned with the wellness concept strategy. Given the particularities of wellness lifestyle real estate, the design brief is a crucial document that serves to translate a project vision into a successfully executed development.
Master Plan
The master plan of wellness real estate developments require a particular focus on the location of the various components, which should emphasize isolation while also fostering a sense of community. This is achieved through an active circulation of people and a focus on landscaping that helps maximize connections with the natural environment.
Design Guidelines for the Master Plan
The purpose of master plan guidelines is to create coherence among all of the different components of the development, from a design, architecture, landscape and concept standpoint, and thus bring to life an integrated wellness community.
Detailed Design of Individual Facilities
This phase is crucial to merging the entire development together over a wellness foundation, incorporating wellness and sustainability-focused elements in the orientation and form of the buildings, the materials used, and the design style (e.g. biophilic).
Construction
Certain technologies, such as prefabricated technology, can enable a more sustainable construction process and create physical environments that are more supportive of wellness lifestyles.
Marketing and Sales
A specialized in-house marketing and sales team, as well as partnerships with market enablers such as health and wellness consortiums, publications and events, will help to drive sales to the targeted group of potential wellness real estate buyers.
Given the growing popularity of wellness real estate globally, it can be anticipated that, with time, such development types will become the norm and progressively transform residential neighbourhoods as well as entire towns and cities. Such a transformation would not only increasingly benefit populations and the environment; it would also result in a growth of profitability and returns for all of the development players involved. Although wellness real estate currently represents only a small portion of the total real estate industry, the benefits it brings to its developers, investors and end-users are expected to generate a rising interest from stakeholders globally.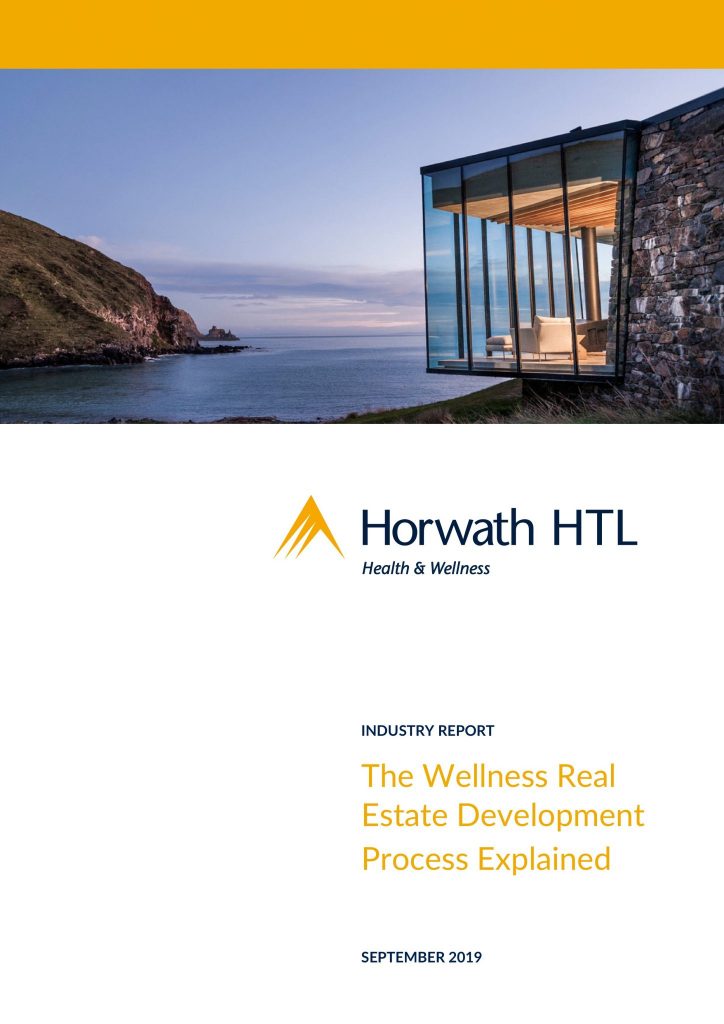 SEE ALSO:
INDUSTRY REPORT: HOTEL MANAGEMENT CONTRACT MOUs EXPLAINED