16 August 2018
The prestigious Black Diamond Award, recognising outstanding individuals in the spa and wellness sector, was recently awarded to Erica B. D'Angelo, Spa Director at GOCO Spa Venice at the JW Marriott Venice Resort & Spa.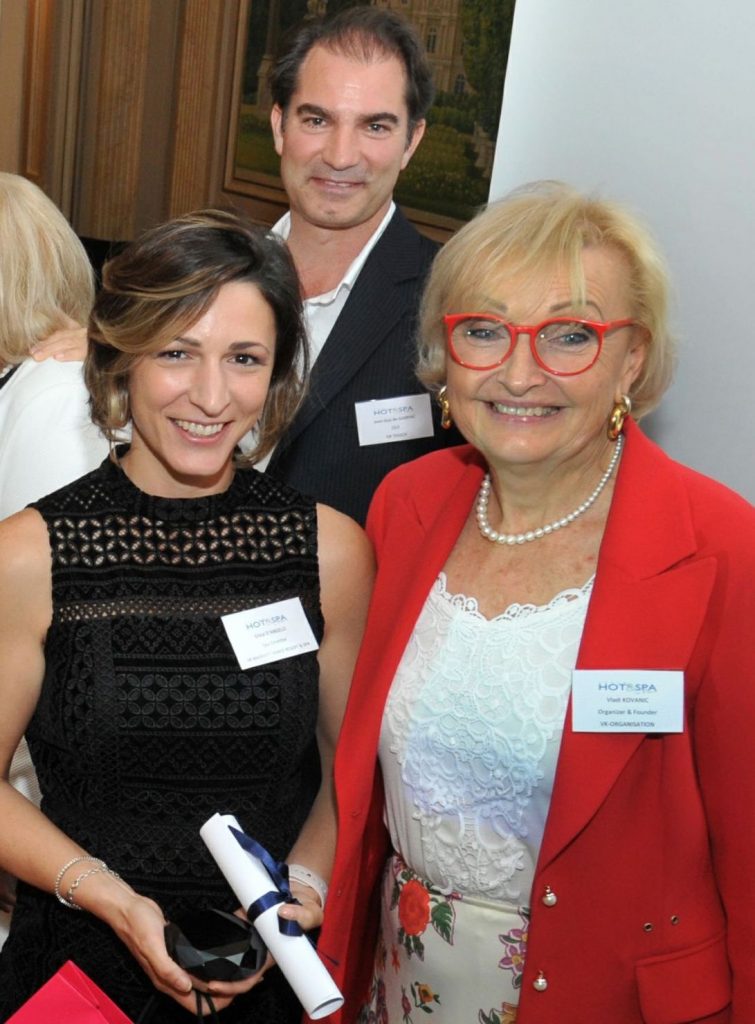 Presented at Forum Hotel & Spa in Paris, the award recognises spa and wellness professionals that have earned the esteem of their peers for dedication and excellence in their career. The award is presented annually by a jury of renowned experts and journalists in the spa and wellness industry.
Following the presentation of the award, we spoke to Erica to find out what it takes to be an industry-leading Spa Director.
1. YOU WERE JUST PRESENTED WITH THE 2018 BLACK DIAMOND AWARD, WHAT DOES THIS MEAN TO YOU?
This award is a coronation of my 10 years of dedication and passionate work as a spa and
wellness resort director. I am delighted that leaders and influencers in the wellness industry have decided to vote for me. The achievements I obtained as director have been very satisfying, and it is a unique feeling to realise what your achievements have meant, not only to myself but also to the entire industry.
2. WHAT DO YOU THINK MAKES FOR A GREAT SPA DIRECTOR?
I have a very simple answer to this question: to care for people. I'm not only talking about guests, but about the team a director is leading. Putting people first contributes to creating an inspirational work environment where people feel taken care of and lead by example. This empowers teams to be more productive and increase their value for the company.
3. WHAT IS THE BIGGEST CHALLENGE FOR YOU AS A SPA DIRECTOR?
I believe the biggest challenge is about interpreting the unexpressed desires of our guests in the little amount of time we have to understand how to deliver a unique spa experience. Having said this, I'm the type of person who sees opportunities in every challenge, and therefore it is difficult to see them as such.
4. WHAT SKILLS DO YOU THINK ARE CURRENTLY HIGHLY IMPORTANT BUT ALSO IN LOW SUPPLY IN THE SPA MANAGEMENT SECTOR?
I'm unsure if it can be called a skill, but it is of utmost importance to excel in the wellness industry: I see very little "walking the talk." When we talk about wellbeing today, we can't leave aside the fact that working in this field also means giving a good example of a healthy lifestyle. Everyone who works in spas should impersonate and feel fully aligned with the mission of delivering wellbeing in all its meanings.
5. WHAT'S YOUR PERSONAL MANAGEMENT PHILOSOPHY IN LEADING YOUR TEAM? HOW DO YOU GET THE MOST OUT OF THEM?
My management style is very simple, I always put people's happiness first. I like to create a fun, authentic and stimulating environment by sharing, involving and asking opinions. I stimulate them to look after themselves, to look after their families and to get their priorities right. I then motivate them to work hard in order to become the best, and I like to celebrate success.
SEE ALSO: MANAGEMENT INSIGHTS FROM AN AWARD-WINNING MIDDLE EASTERN SPA
6. WHO IS YOUR TYPICAL GUEST AT GOCO SPA VENICE AND WHAT DO YOU DO TO ENSURE THEY GET WHAT THEY WANT OUT OF VISITING?
I am unable (most probably unwilling) to describe a "typical guest" as for us at GOCO Spa Venice, each single person is considered as an individual with very specific personal necessities and desires. We understand our guests' priorities through active listening and we respect the time they decided to invest for their wellbeing. Our priority is to create value for our guests by exceeding expectations. The team is trained to ask the most appropriate questions to be able to pick up personal details that enable them to serve our guests better. Our goal is that they remember our very sophisticated approach at customising a spa experience, and when talking about us they would say, "The treatment was amazing, but what struck me most is the care I received, as if these spa people knew me for a very long time."
7. THE WELLNESS INDUSTRY IS RAPIDLY CHANGING, BUT MANY SPAS SEEM TO BE STANDING STILL, WHAT DO YOU THINK THE FUTURE OF SPAS LOOKS LIKE?
I could probably spend hours talking about this topic, and I agree. I am rarely surprised by innovation in spas. In the future, I see the industry moving towards improving people's lifestyles as a whole. I see spas becoming more 'wellness villages' where a person can assess their state of wellbeing and where coaches, rather than therapists, have the tools to enhance the guest's quality of life through a thorough evaluation. I also see a lot of technology coming in the industry that will enable guests to keep track of their improvements and empower coaches to interact with them and provide efficient support to improving their overall sense of wellbeing.
8. WHAT IS HAPPENING IN THE ITALIAN SPA AND WELLNESS SECTOR? WHAT IS POPULAR WITH ITALIANS RIGHT NOW?
Italy is enjoying great success attracting international players in the wellness industry. This is mainly due to the infinite natural resources and the mild climate Italy can offer, which are perfect conditions for wellness tourists. Italy has a broad culture for good and healthy food, and can vaunt amazing longevity in places where the Mediterranean diet is not just a trend but is pure authentic culture. Style and beauty have always distinguished this amazing country, and the demand for wellness is increasing, and Italy for sure reflects this market growth. Italians have always been keen on wellness, but today, as never before, they have the desire to look and feel fit.
9. WHAT IS YOUR OWN PERSONAL WELLNESS TIP?
Fit is the new sexy, and for sure, to be fit, you need to understand how the body works. My suggestion is to proactively take responsibility for your state of wellbeing, learn how the body works, what helps it and what destroys it, and then create a lifetime plan to enhance the quality of your life.