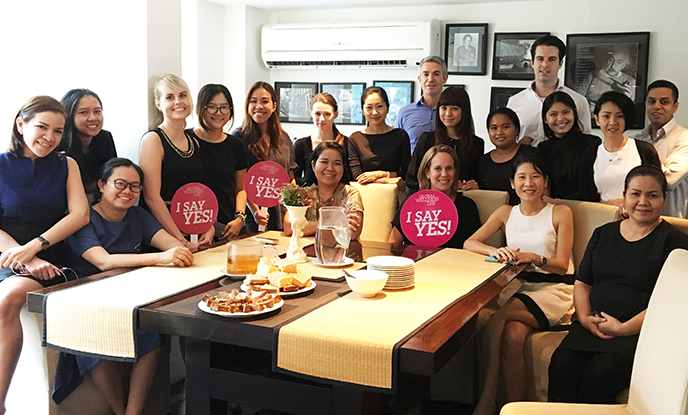 Celebrated by more than 100 countries worldwide, this year's Global Wellness Day took place on the 10th of June and was again actively supported by GOCO Hospitality's corporate office, GOCO Spas and Glen Ivy Hot Springs. Founded by Belgin Aksoy in 2012 as a non-profit day, the social project is dedicated towards people's wellbeing and raising awareness for leading a healthier lifestyle. The initiative builds on a seven-step manifesto to enhance physical and mental health, which is as follows:
– Walk for an hour
– Drink more water
– Don't use plastic bottles
– Eat organic food
– Do a good deed
– Eat a family dinner
– Go to bed at 10 pm
GOCO Hospitality
The team at GOCO Hospitality's headquarters in Bangkok held a six-week wellness campaign, which each week saw the execution of different wellness-related activities. Apart from nominating individuals to showcase one of the credos of the manifesto, the team also took part in internal group activities to boost health and wellness. These included a yoga session, a healthy coffee break, nourishing morning drinks, the creation of a motivational wellness board and listening to mood-boosting music. One of the highlights during the six-week campaign was a group fitness challenge, which motivated the entire team to engage in some form of physical exercise together, including skipping rope, push-ups and musical chairs.
GOCO Spa Venice
Showing its support for Global Wellness Day, GOCO Spa Venice offered special promotions to encourage guests to invest in their health with a comprehensive health package. The package included free access to experience the award-winning thermal and vitality area and coaching sessions on exercises for best posture and self-massage delivered by GOCO Spa's expertly trained therapists.
GOCO Spa Ajman
At GOCO Spa Ajman, team members participated in a poolside morning yoga class taught by Spa Director Rishi Bharadwaj. The class was very well received and everyone started their day feeling energised and centred.
Glen Ivy Hot Springs
The team at Glen Ivy kicked off the week with a healthy vitamin C shot, before participating in a seven-day challenge during which all team members pursued one step of the manifesto daily. Guests were offered a special promotion connected to the seven steps and had a choice of at least three different wellness classes per day, including core stretch, dance and aqua yoga. In addition, guests participated in a Global Wellness Day token hunt, which took place across the entire property, with healthy snacks on offer as prizes.