25 July 2018
The rise of lifestyle-related diseases is fueling the growth of the wellness economy, prompting many companies to incorporate elements of wellness into their product and service offerings in an attempt to capitalize on this ever-growing market. Large hotel companies such as Marriott International, Hilton Worldwide, and Wyndham Hotel Group are launching new initiatives to integrate wellness into the guest experience – offering specially furnished fitness guest rooms, a running concierge service, healthy menus packed with "superfoods", organizing mind and body classes, cooking classes, seminars, and many others. InterContinental Hotels Group and Hyatt Hotels & Resorts have taken the trend to the next level, aspiring to include wellness as part of their portfolio. In 2012, InterContinental announced the launch of a new wellness-centric brand, EVEN Hotels, and opened its first property soon thereafter in early 2014 (the conversion of a 129-key Four Points by Sheraton in Connecticut). Hyatt then followed, with plans to expand its portfolio with the acquisitions of Miraval Group (a leading wellness resort and spa company) in early 2017 and Exhale (a chain of wellness lifestyle centers) later that year.
As wellness is increasingly more established in upscale hospitality developments, large fitness companies are also leaning towards a hospitality solution. Equinox, a chain of luxury fitness studios, is planning to launch its first luxury hotel in New York by 2019. What these recent and upcoming developments indicate is that wellness is no longer about a spa or a fitness center, but rather about the impact the experience at the property has on the guest's wellbeing – during the stay and beyond. Although hotels are increasingly incorporating wellness elements, an all-encompassing offering tends to be overlooked. Today, wellness and hospitality continue to merge, and as these two industries are gradually interweaving, there is a need to clarify key industry terms and set standards for the wellness hospitality industry.
The reality is that merely highlighting healthy features or amenities is "well-washing" and confuses developers and consumers alike. For a true wellness development, hospitality experts have to take into account multiple dimensions, including the choice of materials, usage of biophilic design, incorporating wellness into the overall master plan, and creating social spaces for guests to connect and engage.
There is, however, no 'one size fits all' when it comes to wellness resort or retreat development – some wellness resorts choose to specialize in a single treatment modality (targeted), while others offer a multifaceted approach (holistic). Wellness programing may also vary from general pampering packages to serious, result-driven health programs. Understanding the intention and vision of a future project is key, as it determines the required skillset for the project.
When developing a wellness resort, it is essential that both the owner's and the developer's visions are aligned with the operator's brand strategy and operating philosophy. This includes a concept strategy that is operable and commercially viable. Within this process, a series of operating criteria must be developed to ensure that the proposed wellness resort development strategy makes commercial sense and appeals to the targeted audience. In addition, the location may be of secondary importance, as guests typically travel to a wellness resort for a specific purpose, creating an oasis that is rooted in authenticity, programing, and healthy dining options to service an entire stay. These are crucial elements associated with wellness resorts. Authenticity and a genuine guest experience take center stage while luxury is not necessarily the priority.
Investors and developers entering the space where the health and wellness dollar merges with the hospitality dollar must understand and fully support the dynamics and concept of a true wellness resort. It is critical to understand the target market (wellness traveler vs. wellness visitor), understand the functionality of the essential facilities, accept a longer maturation period and higher initial investment, and be familiar with the specialized marketing strategy, and the pre-opening and management requirements of such product.
In its new white paper, the Horwath HTL Health and Wellness team from Bangkok is set to clarify key industry terms and definitions. Horwath HTL Health and Wellness's multidisciplinary team is made up of passionate experts who specialize in hotel and spa operations, sales and marketing, finance and feasibility, development, design, and master planning. With the help of its advisory board of senior experts in medical science, academic research, architecture, design, urban planning, and sustainable architecture (i.e. LEED-accredited architects), Horwath HTL Health and Wellness has access to up-to-date research and specialist know-how, profound knowledge of the latest industry developments, and future trends.
Download the full report below: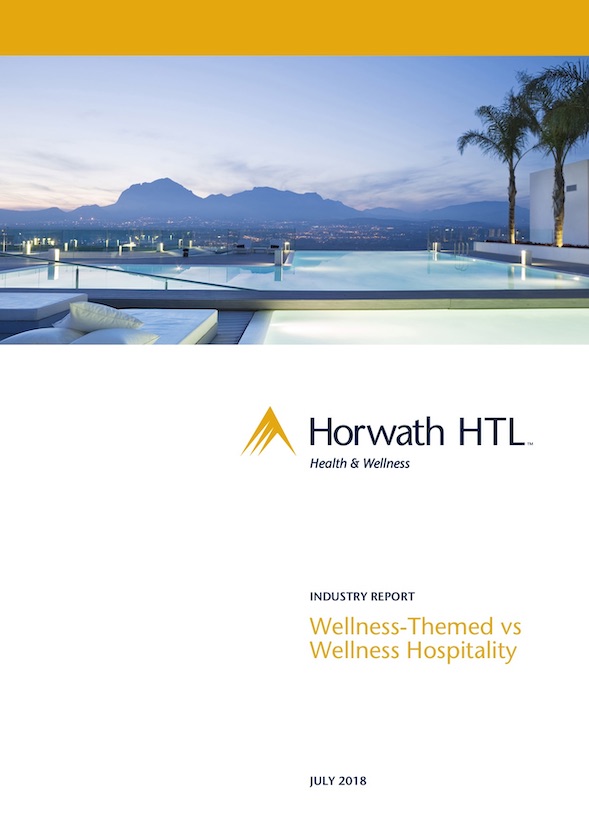 RELATED CONTENT:
Understanding the ROI of Wellness