People take some extreme measures to achieve perfect skin and beat back the signs of ageing; however, by many people's standards, piercing the skin with hundreds of tiny needles seems totally ridiculous and just one step too far. The surprising thing is that there is plenty of scientific research showing that it actually works.
With effectiveness clear to see, microneedling, as the process is known (it is also commonly referred to as collagen induction therapy), is rapidly growing in popularity for a wide variety of skin conditions. But, is it the right advanced beauty treatment for you to offer in your spa?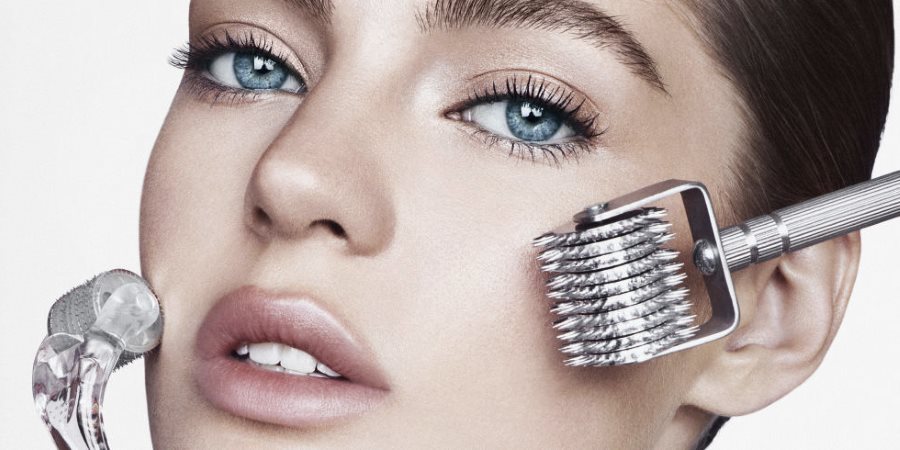 WHAT IS MICRONEEDLING?
Microneedling is a minimally invasive aesthetic procedure involving the use of small rollers covered in tiny needles that are rolled over the skin. While most often focused on the face, it can be used on many areas of the body. A standard medical dermaroller, as the equipment is called, has a 2 cm x 2 cm drum studded with around eight rows and 24 circular arrays of 192 microneedles. Dermarollers come in varieties with different needle lengths that vary from 0.5 to 3 mm
WHAT IS MICRONEEDLING USED FOR?
Microneedling can be used for a number of different conditions. It is most commonly used for:
· Anti-ageing – reduce wrinkles and fine lines
· Scar reduction – especially facial scars caused by acne
· Reverse sun damage and hyperpigmentation
· Improving skincare product absorption, particularly serums
· Stimulating new hair growth on scalp in cases such as alopecia
· Hyperhidrosis (excessive sweating)
How Does Microneedling Work?
Microneedling works through stimulating the skin's own natural healing reflex. When the skin is minimally injured through being pierced by the microneedles, it activates a natural repair response to produce collagen and elastin, which gives skin its youthful look. This works in the same manner as laser therapy; however, it uses mechanical methods to induce the micro skin injuries rather than heat and light.
There are three main stages:
Stage 1: Immediately following microneedling injury, the body's immune system kicks in to clean the wounds, increase blood flow and begin new tissue formation.
Stage 2: Skin is rebuilt with new granulation cells and temporary Type III collagen and elastin.
Stage 3: New dermal tissue and blood vessels are fully formed. Temporary collagen is replaced with stronger Type 1 collagen that contracts and tightens the skin.
WHAT IS THE PROCESS?
Ideally, the skin is prepared for at least a month with vitamins A and C to provide support material for the eventual collagen generation. The microneedling process usually begins with a preparation of the skin with a topical anaesthetic cream. This is then followed by the rolling of the specially created dermarollers over the target area of skin in a horizontal, vertical and then diagonal fashion. The process takes around 20-30 minutes depending on the area being treated. After the rolling, various skin-rejuvenating serums or face masks may be added to the skin as the micro-channels that have been created allow superior absorption into deeper layers of the skin.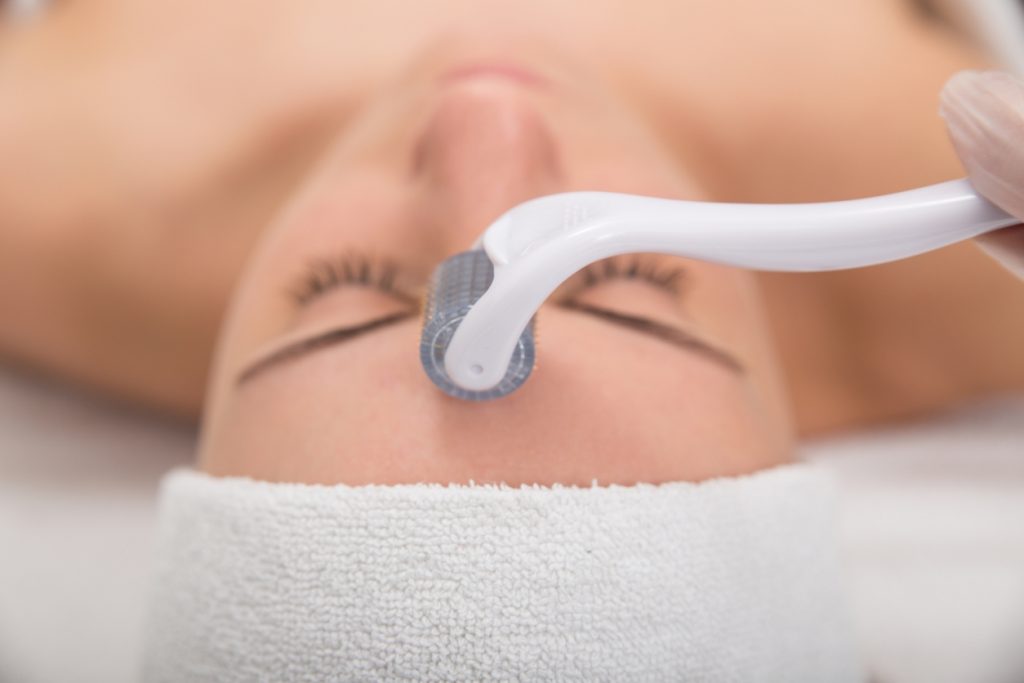 For effects to be fully seen, patients should undergo a series of treatments, usually spread out over at least a couple of months. Maintenance treatments are then recommended every six to nine months.
The frequency of the treatments depends on the patient's individual skin sensitivity as well as the length of the needles being used. Smaller needles can allow a couple of treatments per week, whereas longer needles will require at least a week or even up to a month between treatments in order to allow the skin to heal. For improved results, patients can conduct their own at-home treatments with smaller needles between the sessions at clinics.
HOW EFFECTIVE IS MICRONEEDLING?
While additional research needs to be carried out on specific uses and with specific types of skin, plenty of scientific research has already been done on the effectiveness of microneedling and shown it to be both safe and effective. A study in the International Journal of Dermatology stated that microneedling is "a simple and effective treatment for photoaged skin with minimal disruption to the epidermis, thus limiting adverse effects and minimizing downtime".
Another review states that, "Microneedling was investigated in experimental settings for its effects on atrophic acne scars, skin rejuvenation, hypertrophic scars, keloids, striae distsenae, androgenic alopecia, melasma and acne vulgaris." It concluded that, "Microneedling showed noteworthy results when used on its own and when combined with topical products or radiofrequency".
A scientific study in 2009 investigated the effectiveness of microneedling in the treatment of atrophic facial scarring. It found that, "Out of these 36 patients, 34 achieved a reduction in the severity of their scarring by one or two grades. More than 80% of patients assessed their treatment as 'excellent' on a 10-point scale".
This study also investigated the effectiveness of microneedling at treating different types of scars. It found an excellent result in rolling and boxcar scars, but did not have a strong result for pitted or linear scars. However, these scars are the most difficult to treat even with other treatment methods.
One study states, "examination of the skin treated with 4 microneedling sessions 1 month apart shows up to 400% increase in collagen and elastin deposition at 6 months postoperatively."
The effectiveness of the treatment is directly related to the length of the needles, with longer needles proving more effective than shorter ones.
HOW LONG DOES THE RESULT LAST?
No skin treatment is ever permanent, and neither is microneedling. This is why experts recommend quarterly or half-yearly top-up sessions to keep skin looking youthful. The length of the result varies depending on skin type and rate of ageing. An article in the Indian Dermatology Online Journal states, "A fibronectin matrix forms after 5 days of injury that determines the deposition of collagen resulting in skin tightening persisting for 5-7 years".
WHAT ARE THE SIDE EFFECTS?
Microneedling appears to be a safer option than other options such as laser treatment. However, the most common side effects are temporary erythema (redness of the skin) and hyperpigmentation. Rarer side effects include tram tracking, allergies and hypersensitivity.
Care must be taken during the procedure to avoid any areas of skin currently affected by acne or other skin conditions such as rosacea or eczema, as the microneedling process could cause bacterial infections to spread.
Other contraindications include:
· Patients suffering from cold sores or warts
· Patients suffering from psoriasis
· Patients suffering from bood dyscrasia or on anticoagulant therapy
· Patients with keloidal tendency
· Patients undergoing chemo or radiotherapy
Source: Indian Dermatology Online Journal
Following the treatment, patients are advised to avoid applying makeup for 24 hours as the micro-channels created in the skin mean chemicals will absorb deeper into the skin and may cause increased sensitivity and reactions to commonly used products. Patients should also avoid any carcinogenic ingredients such as parabens.
HOW DOES IT COMPARE TO OTHER TREATMENT OPTIONS?
A 2016 study in the journal of the Dermatologic Society directly compared microneedling with fractional laser treatment. The study concluded that both methods provided a similar outcome; however, microneedling was found to provide fewer side effects and required less downtime. Patients can be back to their normal routine almost instantly.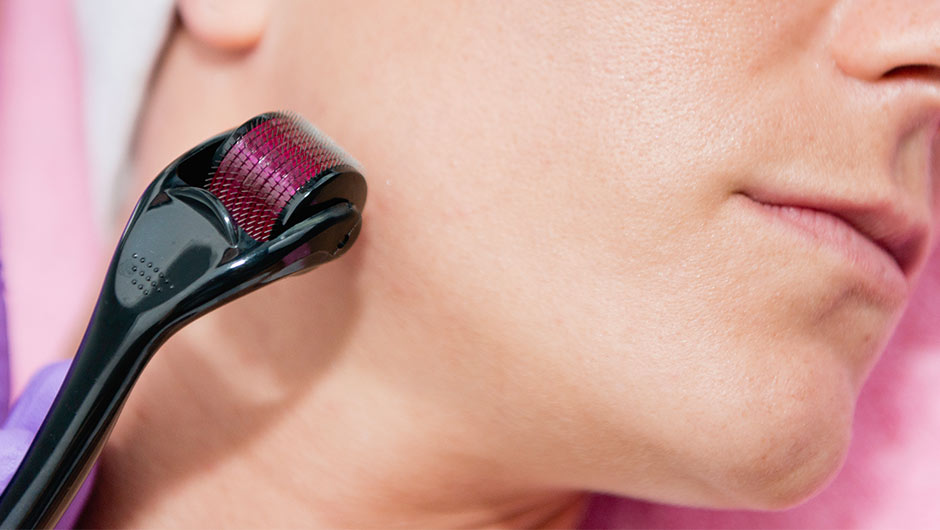 A 2018 review just published in the Journal of Plastic, Reconstructive and Aesthetic Surgery states, "When compared with other treatments, [microneedling] showed similar results but was preferred due to minimal side effects and shorter downtime".
In terms of darker skin types, techniques such as dermabrasion, chemical peels and laser therapy are known to carry risks of dyspigmentation and scarring. It is believed that microneedling presents a safer option than these other techniques.
WHAT'S THE DIFFERENCE BETWEEN IN-OFFICE TREATMENTS AND DIY AT-HOME TREATMENTS?
Rollers for carrying out at-home microneedling are available for purchase online, at clinics and MediSpas. These rollers can be used by individuals to carry out the microneedling procedure by themselves. However, commercially available microneedling rollers have a limited needle length. They are normally no longer than 1.5 mm in length. Meanwhile, the rollers used in professional clinics and MediSpas may be as long as 3 mm.
While commercially available rollers are known to be effective, longer needles have been shown to produce much more dramatic effects. In addition to this, there are also worries that at-home application of microneedling leads to the potential for skin infections to develop and spread. However, at-home microneedling is significantly cheaper than the services being offered at clinics and MediSpas and allows the user greater convenience in how often the procedure is carried out.
HOW MUCH CAN MEDISPAS CHARGE FOR MICRONEEDLING?
In the United States, clinics are charging from around US$500 to US$1,100 for a session, depending on the location. In London, sessions are around £200-300 per session. This is around one third of what is charged for Fraxel laser treatment.
HOW MUCH INVESTMENT/EQUIPMENT IS REQUIRED?
Compared to the costs of a Fraxel laser, which can cost around US$100,000, microneedling rollers are incredibly cost effective. However, brand new rollers need to be used for each patient to avoid risks of infection. Standard, professional-grade dermarollers cost between US$30-US$50.
The dermarollers available are classified as:
· C-8 (cosmetic type), with needle length of 0.13 mm, is completely painless and is mainly used for enhanced penetration of skin creams.
· C-8HE (cosmetic types for hair-bearing surfaces and scalp), with a needle length of 0.2 mm
· CIT-8 (medical type), has a needle length of 0.5 mm and helps with collagen induction and skin remodelling
· MF-8 has a needle length of 1.5 mm that creates deeper channels and disrupts scar bundles
· MS-4 has a thinner cylinder for greater precision use on the face. Mostly used on facial acne scars.
· Other devices similar to the MS-4 have smaller needle lengths for around the eyes and mouth.
Source: Indian Dermatology Online Journal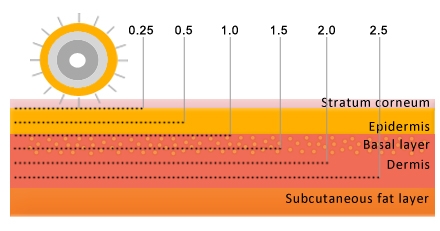 Electric microneedle derma pens that use replaceable needle cartridges retail for around US$600. They are used for treating narrow areas around the nose, eyes and mouth.
Advanced dermarollers recently released combine microneedling with radiofrequency and LED light for more effective treatment.
WHAT TRAINING AND QUALIFICATIONS DO MICRONEEDLING PRACTITIONERS NEED?
The qualifications required to provide microneedling vary depending on location. In some places, microneedling can only be provided by a qualified doctor; in others, a trained aesthetician can provide the service if they have completed an accredited course. Professional courses usually allow practitioners to learn all required skills, techniques and knowledge in one day.
Also important to check is whether your business liability insurance covers provision of microneedling and specifically what requirements it imposes.
IS MICRONEEDLING RIGHT FOR YOUR SPA?
Microneedling has proved itself to be effective, safe and popular. With minimal training and capital investment required, it can provide a lucrative income for spas looking to provide guests with a highly effective skin treatment.