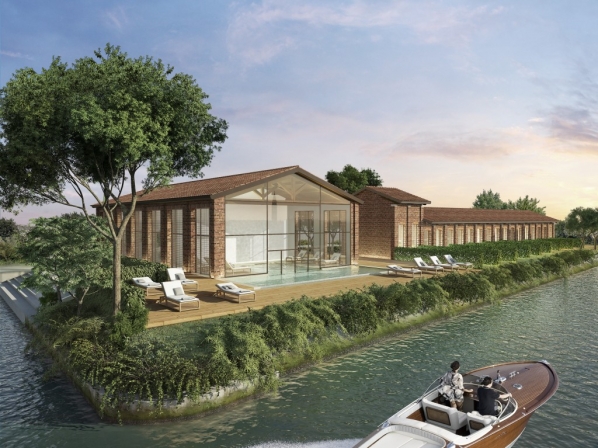 Award-winning wellness and hospitality consulting and management company adds a second benchmark-setting spa to its growing European portfolio
GOCO Hospitality is developing a waterfront spa for the 266-room luxury JW Marriott Resort & Spa on the beautiful island of Sacca Sessola, 15 minutes by speedboat from Piazza San Marco in downtown Venice.
Man-made in 1860, Sacca Sessola, a 40-acre island, is one of 118 islands in the Venetian lagoon. GOCO Spa, the wellness offering of the luxury urban resort development, will cover an area of approximately 1,000 square meters with stunning, unobstructed views over the water, set against a backdrop of Piazza San Marco.
Engaged by Aareal Bank AG, GOCO Hospitality has conducted the initial market research and feasibility study, is developing the concept, providing technical service and design recommendations, and delivering pre-opening services. Post construction, GOCO will operate the spa.
The most unique and expansive wellness offering in Venice, GOCO Spa will offer authentic, classical spa treatments, results-orientated cosmeceutical facials and male grooming treatments in well-appointed treatment rooms and spa suites, all complemented by a bathing circuit, fitness center, specialized weekend spa and wellness packages and outdoor mind and body classes.
Set among lush and manicured private gardens, the spa will also indulge guests with spontaneous treatments in pop-up locations around the island during summer months.
"It is GOCO's vision to create – innovate – operate, tomorrow's hospitality concepts. This is what we aim to achieve with our new GOCO Spa in Venice that marries Italian sensibility and passion for life with modern architecture and design," says GOCO Hospitality CEO, Ingo Schweder. "We are bringing something unique to the city, and giving wellness a fresh face. With a beautiful island and tranquil setting offering views overlooking the Mediterranean Sea, elegant and contemporary facilities, and a sophisticated and comprehensive wellness platform, we are creating an exclusive urban oasis that will attract males, females, locals and international travelers – and in line with a city known for its sense of romance, offer a place for couples to retreat."
Designed by renowned Matteo Thun & Partners of Milan, the JW Marriott Resort & GOCO Spa, in addition to its standard guest rooms and suites, will feature a selection of indoor and outdoor dining experiences, an indoor and rooftop swimming pools, a restored chapel for private functions and weddings, and 1,200 square meters of meeting space.
The JW Marriott Resort & GOCO Spa is expected to open at the end of 2014, introducing an exceptional experience currently unknown in the Venetian market.
When it opens, this will be the second spa under GOCO management in Europe, after the opening of its first, award-winning spa, THE SPA at Steigenberger Frankfurter Hof.