21 March 2019
We live in a world that seems to have become obsessed with being fit and healthy. Gyms pop up at every corner, new workouts enter the market almost weekly and even pre-school kids now wear fitness-tracking devices. How did this all start?
Going back in time…
Fitness, as we know it today, has its humble beginnings in the early 20th century, when competitive sports grew in popularity and Georges Hébert, a French physical educator, developed an exercise system called the "Natural Method", which promotes elements of walking, running, jumping, throwing, swimming, defending, lifting, climbing, quadrupedal movements and balancing. He also opened up several fitness clubs, which, however, were only accessible to the elite at the time.
It was during the first decade of the 20th century that gymnastics began being popular with the masses; this, however, excluded women as sweating was not considered feminine, and women were advised to stick to stretching instead. During the 1930s, fitness classes really became mainstream, yet when the Great Depression hit, keeping fit suddenly was not a priority anymore and people turned away from it. Over the next decade, the face of fitness changed again, introducing vigorous workouts that encouraged profound sweating as part of the experience. During the '50s, an effort was made towards educating the public on the consequences of having poor fitness levels, which resulted in institutions such as the American Health Association drawing up campaigns to get people to participate in physical activity.
Image: Hula hoop was popular during the 1950s
The 1960s saw the rise of fitness equipment for both gym and home use. Particularly treadmills became popular, even though they had already been developed before the 1950s. It was also the time of gimmicky machines, which included the Thighmaster or ab rollers. However, an effort was also made to promote fitness as disease prevention, instead of getting medical treatment later on – one of the main influencers was Dr Cooper, who is oftentimes referred to as the "father of the modern fitness movement".
A new era began when in the '70s co-ed gyms opened, which had the best of weight training and aerobics classes, which at the time were all the rage. The cardio trend continued well into the '80s, and took different forms (apart from aerobics, indoor group cycling was trending). New types of cardio equipment such as stair climbers or recumbent bikes attracted the masses to gyms and fitness studios.
Discounted fitness was the biggest change that came with the '90s, with large fitness chains offering individuals a bunch of discounted classes and memberships. Longer operating hours were an adaptation to people's diverse lifestyles and enabled an even larger crowd to become physically active in a studio atmosphere. It was also the time of elliptical machines (or cross trainers), which were first released in the '90s by fitness company Precor, rivalling treadmills ever since.
In the 2000s, interval and heart-rate-based workouts made an entrance to the market, encouraging individuals to train smarter and push themselves to their physical limits when exercising.
Fitness Today
Fitness is popular like never before. Over the past 10 years, the number of fitness memberships in the States has continuously risen, reaching an all-time high in 2017 with over 60 million individuals being part of a gym or health club.
Source: Gym memberships in the USA. Statista (2019)
In terms of gym classes, HIIT (high-intensity interval training), bodyweight workouts and functional training are some of the most sought after (ACSMs Health & Fitness Journal 2018). And they need to be highly personalised – an overwhelming 77% of millennials not only desire but rather expect highly interactive and personalised classes that are customised to their fitness levels and goals.
Another sector of the fitness market that has grown tremendously is boutique fitness. By paying a premium, guests can work out in a luxuriously equipped, exclusive environment that features unique classes, highly experienced trainers and an often very flexible workout schedule. In addition, boutique operators such as SpaceCycle come with the benefit of its own community, which creates a feeling of being "at home" in the studio and motivates people to stick to their exercise routine.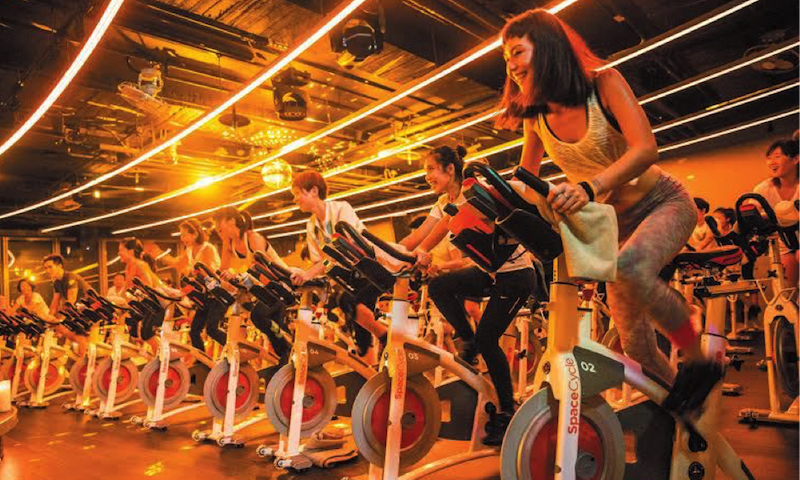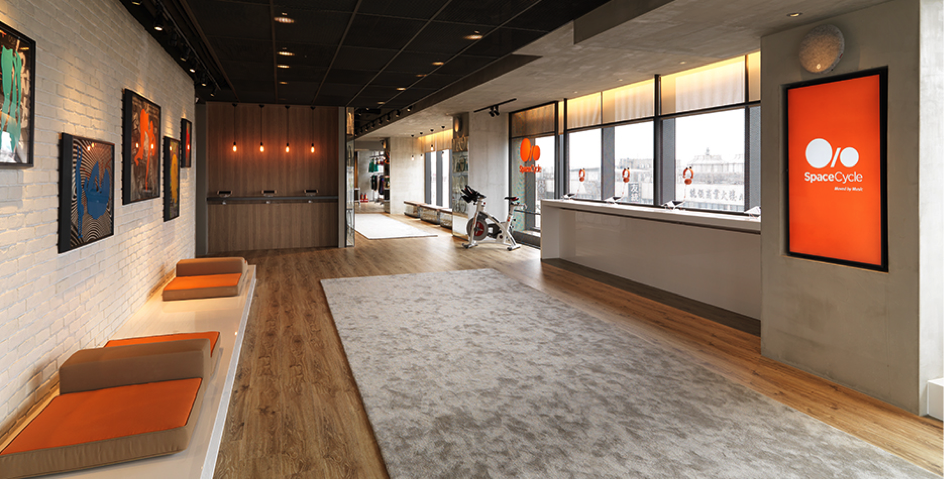 Image: Space Cycle Ming Yao Studio in downtown Taipei, Taiwan
Another trend shaking up the market is tracking performance with wearables and apps. Devices such as the Apple Watch and Garmin are in vogue, making fitness quantifiable and comparable not just to a person's own past performance but also to others. Fitbit, another major player, has recently introduced Fitbit Ace, an activity tracker for children 6 years and older.
Closing Words
Ultimately, we can make three observations, which are:
1. Fitness has truly transformed over the last 100 years, going from low-impact stretching exercises at home to high-power boutique classes.
2. Today, fitness is far more than a means to an end – in fact it has earned its solid place in people's active lives and daily schedules as a beloved way to be well.
3. Fitness has become a lifestyle choice that empowers, unites and helps people express their personalities.
How do you stay fit?