BANGKOK – 18 November 2020 – As GOCO Hospitality is recognised last week as 'Best Global Spa Development Group' by World Luxury Spa Awards, we would like to take this opportunity to extend our gratitude for the continued support from our stakeholders and celebrate or ability to provide world-class services despite the difficulties faced by all industries this year.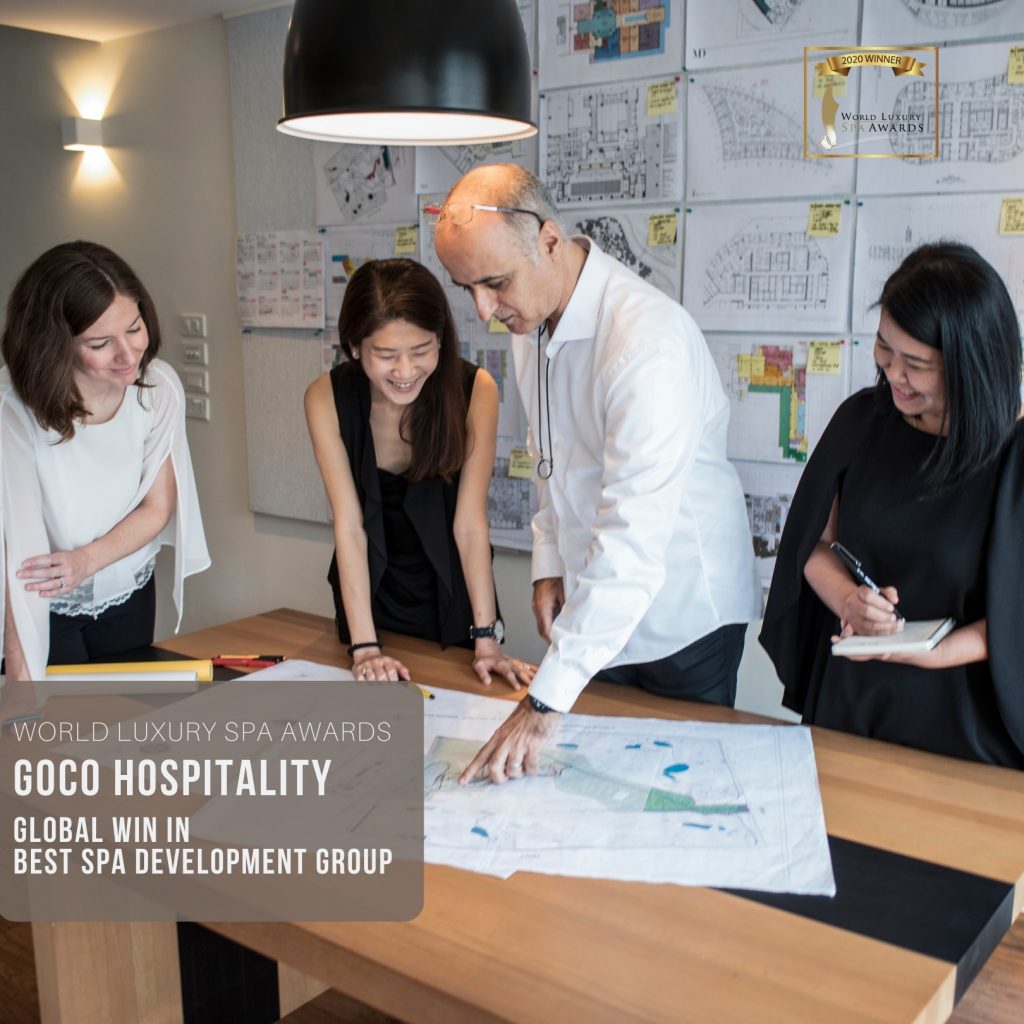 Indeed, it has been an outstanding year in both positive and negative ways. We have all experienced and endured one of the biggest challenges facing hospitality and public health in modern times, and although it is not yet past us, we would like to take this opportunity to ensure our continued support and proactive engagement in bringing the world of wellness into the forefront of hospitality's inevitably vast and vibrant future.
As wellness becomes increasingly important to many people from all backgrounds, our collective understanding of immunity and personal wellbeing will be sure to become the driving force in developments of the future. From real estate to resorts, spas to wellness retreats, we revel in the fact that our stakeholders have identified this trend and have engaged GOCO Hospitality to assist with the integration of wellness into various developments.
At GOCO Hospitality, we strive to create, innovate, and operate the future of wellness hospitality and will continue to be a synonym of wellness as a leading operator, trusted consulting partner, and future collaborator for all our stakeholders.
We will continue to represent the highest competence and expertise in the industry despite the setbacks and challenges faced over the last year, and our award from World Luxury Spa Awards exemplifies our unfaltering dedication to creating world-leading wellness destinations of all kinds.
The World Luxury Spa Awards is a well-established, global organisation that recognises luxury spas and wellness operators for their world-class facilities and service excellence.
"To be recognised as the world's best spa development group is an honour and an incredible achievement for all of us at GOCO Hospitality," said Ingo Schweder on receiving the prestigious award. "We are dedicated to providing the best service and craft the future of wellness hospitality for our stakeholders, and I am proud that the incredible achievements of GOCO Spa Daios Cove, GOCO Spa Ajman and Glen Ivy Hot Springs have not gone unnoticed."
In addition to being awarded 'Best Spa Development Group' by World Luxury Spa Awards, GOCO Hospitality and GOCO-branded properties also received various awards from World Luxury Spa Awards, World Spa Awards and Haute Grandeur Global Spa Awards, such as 'Best Luxury Spa in the Middle East' and 'Best Regional Spa Team in Europe'. You can read our full list of awards this year by clicking here.