7 June 2019
As part of a long-term schedule of renovations and improvements, one of the most popular facilities at Glen Ivy Hot Springs, the Grotto, has just reopened after being given a thorough anti-ageing treatment of its own with a significant renovation that makes it seem like new again.
The Grotto is a one-of-a-kind treatment experience that involves descending into a cool and damp subterranean cave-like environment. There, guests, either by themselves or in groups, get lathered neck-to-toe in a supremely moisturising mixture of aloe vera, coconut oil, eucalyptus, lavender and a shea butter masque. Following this, guests relax in the comfortable environment to allow all the goodness to seep deep into the skin.
Guests then rinse under cascading water and enjoy refreshments of tea or water and fresh fruit.
Check out the video below to understand the full experience.
Glen Ivy Hot Springs' Club Mud was recently featured on the California Live show on NBC Los Angeles. Check it out here: California Live.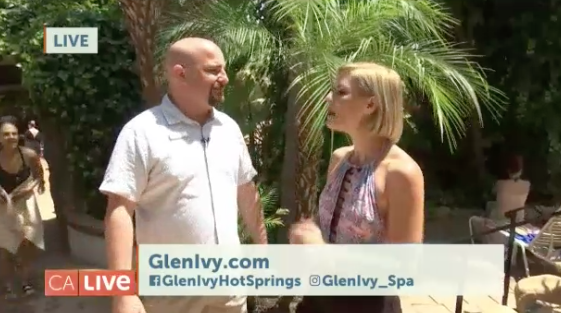 Introducing the New Spa.Wave System
Another recent investment at Glen Ivy Hot Springs has been the introduction of the Spa.Wave system. This includes a massage table with a water-filled surface layer with chromotherapy and an oscillating massage system. This is combined with noise-cancelling stereo headphones that deliver specially composed music featuring binaural sounds. The overall effect is one of intense relaxation and mindfulness.