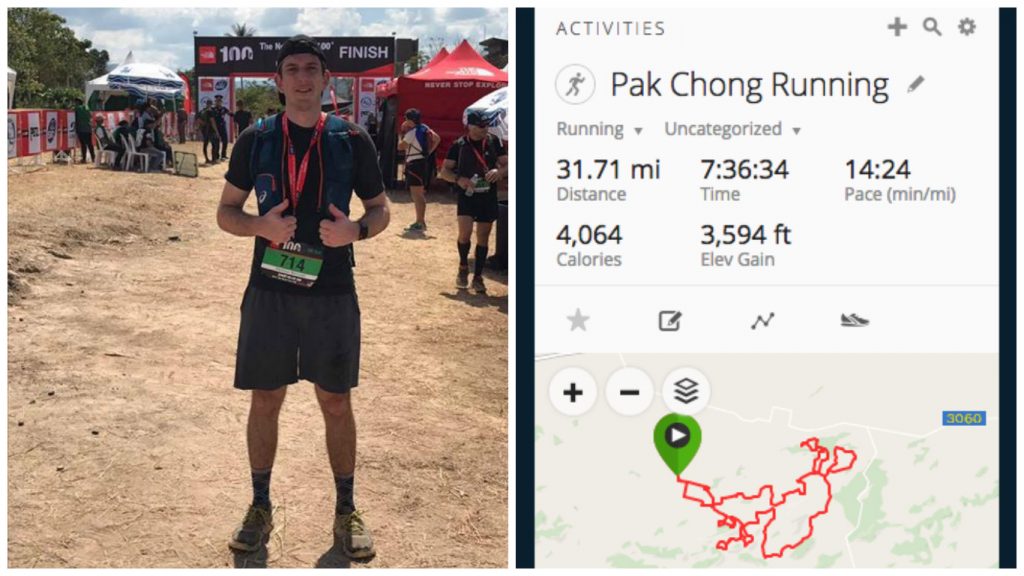 Matthew Brennan, Director of Horwath HTL Health and Wellness, and Director of Finance for GOCO Hospitality, has successfully taken part in the North Face 50km race in Khao Yai last Saturday (read our pre-race interview with him here).
Sub-divided into a series of different course lengths from 15km to 100km, the 50km course was designed for experienced runners only and left participants with a 13.5h time frame to finish. To escape the most brutal heat, the race began at 5.30am and led through a mainly rural terrain in Southern Khao Yai.
We talked to Matt about his experience post-race:
1. How long did it take you to finish the race?
It took me approximately 7.5 hours to complete the run. My goal, set the night before the race, was to finish in under 7 hours.
2. How did you feel during the race?
The hardest part for me was the segment between 30K and 40K. During this period, the trail got very technical, I started to get tired, and the temperature rose.
3. Would you do it again?
Yes, I would do the race again, and I would like to try other 50K races in Thailand and other countries. I don't enjoy running, but I think it is a good challenge, and the feeling that you have after finishing is awesome.
4. Would you recommend the race to others?
Yes. It was very well organised and I would recommend it to everyone, even if only running the 15K segment.
Wellness is a way of life, and Matt truly embraces it by incorporating various fitness activities and events into his daily routine.
We are very proud of him and he is a role model for the entire team.