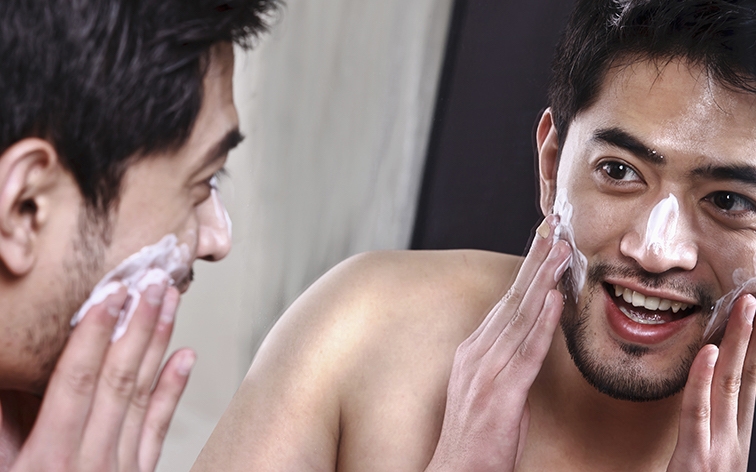 Colloquially known as 'little fresh meat' (or 'Xiao Xianrou' in Chinese), these young male Chinese celebrities display perfect skin and exquisite facial features, and are a prominent symbol of a significant change in attitudes towards male attractiveness in modern China. Inspired by Korean superstars, the little fresh meat grouping of male Chinese celebrities have much softer, more delicate and more feminine facial features than the traditional Chinese vision of male good looks, which was rough, tough and highly masculine. The rise of the little fresh meat group of celebrities in China, however, is merely the most high profile aspect of this change in attitude towards male good looks.
Increased urbanisation, rising disposable incomes and social pressures to appear successful and youthful have generated a strong trend of male grooming in China, particularly in terms of skincare.
According to Kathryn Sloane, APAC Region Director of Growth for SGK, "Although the US and UK initially led the global market in terms of the launch of new men's grooming products, Asia has now exceeded the western markets with regard to actual sales. The spend across the Asia-Pacific region now accounts for 60% of the total US$21.4 billion global male-grooming market."
This trend looks set to continue, with Euromonitor International estimating that retail sales of male skincare and cosmetics in China will grow by 13.5% on average per year from 2016 to 2019, ultimately reaching RMB1.9 billion (US$290 million) per year. This compares to a global average growth of just 5.8%.
For middle-class Chinese men, male beauty care is now seen as a symbol of sophistication and professionalism. Research by Kantar Worldpanel suggests more and more Chinese men now agree with the statement "My looks reflect who I really am" (rising from 76% to 78%). They are also more likely to spend time choosing the right skincare products for them (rising from 13% to 18% over two years) as well as consider the morning and evening skincare routine to be important (up from 51% to 55%). As is so often the case, the desires of women are also highly influential, with 73% of Chinese men saying they pay attention to their appearance "because women like it."
A survey reported in the Chinese publication The Paper shows that men in China's first-tier cities now spend an average of 24 minutes per day on their daily grooming routine, which is a significant increase from before.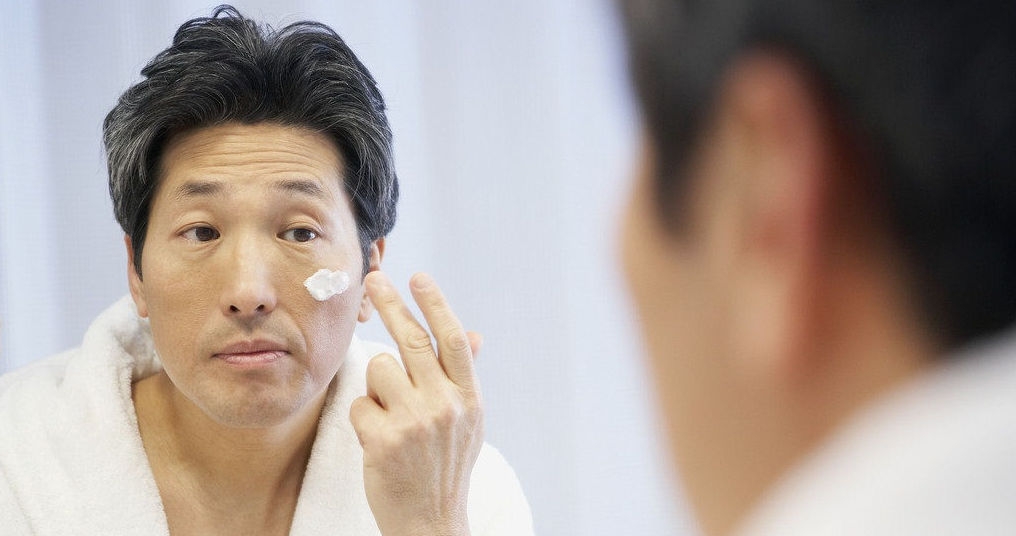 Despite the trend being most pronounced among younger men, older Chinese men are certainly not letting themselves be left behind. This group is also paying significantly more attention to their appearance than before. Importantly, older Chinese men have substantially greater spending power, and so shouldn't be ignored by the market.
Investigating this new social trend, the Hong Kong Trade Development Council (HKTDC) conducted an in-depth survey of Chinese male attitudes to skincare and cosmetics.
A key attribute of Chinese male skincare shoppers that was highlighted by the survey is that they tend to be somewhat brand loyal, often having a particular brand in mind when heading out to buy; however, on the other hand, they also claim that they are open to being directed by sales assistants when making purchases. The report reveals that 60% of the time, male consumers make planned purchases and 40% of the time purchases were made on impulse. Younger consumers were said to be slightly more likely to make planned purchases compared to older consumers, and the richer the consumer, the more likely they would be to make impulse purchases.

Source: HKTDC
Despite the male grooming industry growing rapidly, the survey shows that it still remains at a fairly basic stage, with 63% of men using only cleansing milk, lotion or face cream. Only 37% of men say they have a more sophisticated, multi-step daily skincare routine. The HKTDC survey further reports that the higher the average income, the more likely it is that an individual will have a regular skincare routine and the greater the number of skincare products used.
SEE ALSO: Chinese Diet Trends: Changing for the Better
Acne treatment, sun block and oil-control products are the top three features male Chinese consumers are looking for according to Cinda Research. Separate research by Kantar Worldpanel backs this up, stating that men are more likely to have greasy skin and that male-specific brands with oil-control features show high levels of demand.
Chinese men have strong brand preferences and if buying new products, tend to stick to the brands they already know and prefer. However, when buying new products they look for ones that provide well-defined results or meet a specific need, such as products designed especially for men or particular skin types, or ones that have specific features such as anti-aging and anti-wrinkle results. The next most important factor for consideration is products that offer innovative new ingredients. Research by Kantar Worldpanel on the Chinese skincare market also highlights that Chinese middle-class consumers have a strong attraction to 'natural concept' skincare products.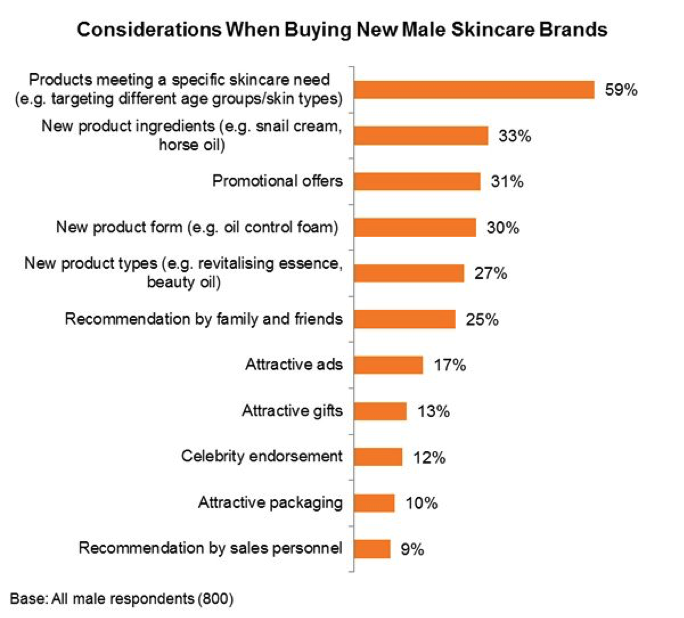 Source: HKTDC
In terms of the country of origin for the skincare product used, while Chinese brands are considered to be good value, higher-income individuals tend to have a greater preference for foreign brands, with European and South Korean brands being most popular.
Skincare products from different countries have very different perceptions among Chinese male consumers. Swiss products are seen as focusing on medical cosmetology, US brands are considered to have more advanced formulae, and Japanese brands are seen as focusing more on skin whitening and are considered as more suitable for Asian skin types.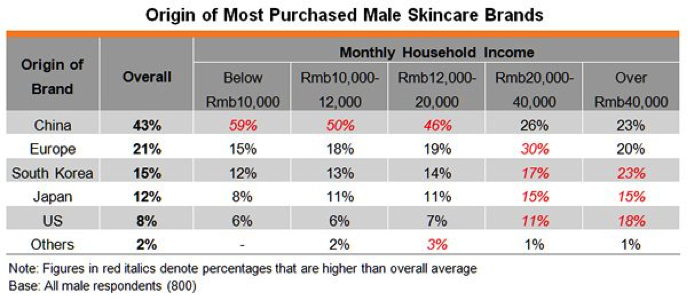 Source: HKTDC
Currently, premium skincare brands have a 13% share of the Chinese market. This compares to a 44% share in the South Korean market, signalling a high potential for future growth and market development. It is estimated, however, that it will take around eight years at a minimum for premium brands to achieve the same level of market penetration in China as they currently do in South Korea.
This future potential for premium skincare brands is backed up by a report from McKinsey that details how Chinese consumers currently account for a third of the spending in the global luxury goods market. Since 2008, three quarters of the total growth in global luxury spending can be attributed to purchases made by Chinese consumers, and by 2021 China is expected to have the greatest number of affluent households in the world. Surveys further show that affluent Chinese consumers are more likely than lower income Chinese consumers to plan to increase their spending in the next year.
What does all of this mean for spas in China or even foreign spas looking to serve Chinese guests? Firstly, it is clear that Chinese men have an increasing interest in looking after their skin and that this is a market that cannot be ignored. However, Chinese men are increasingly looking for treatments that are specifically formulated for male skin. This means a dedicated male-grooming section of the spa menu is essential. Chinese men are particularly looking for treatments that are results-based, especially oil-control and fighting acne. They also have a preference for natural and innovative ingredients. While somewhat loyal to particular brands, they are open to being convinced into trying new brands. This is particularly so for consumers with higher incomes. Higher income consumers also have a greater preference for foreign product brands. Your spa should offer them both for treatments and part of your retail offering. The premium luxury segment of the market looks set to continue its rapid growth and targeting this group is recommended.